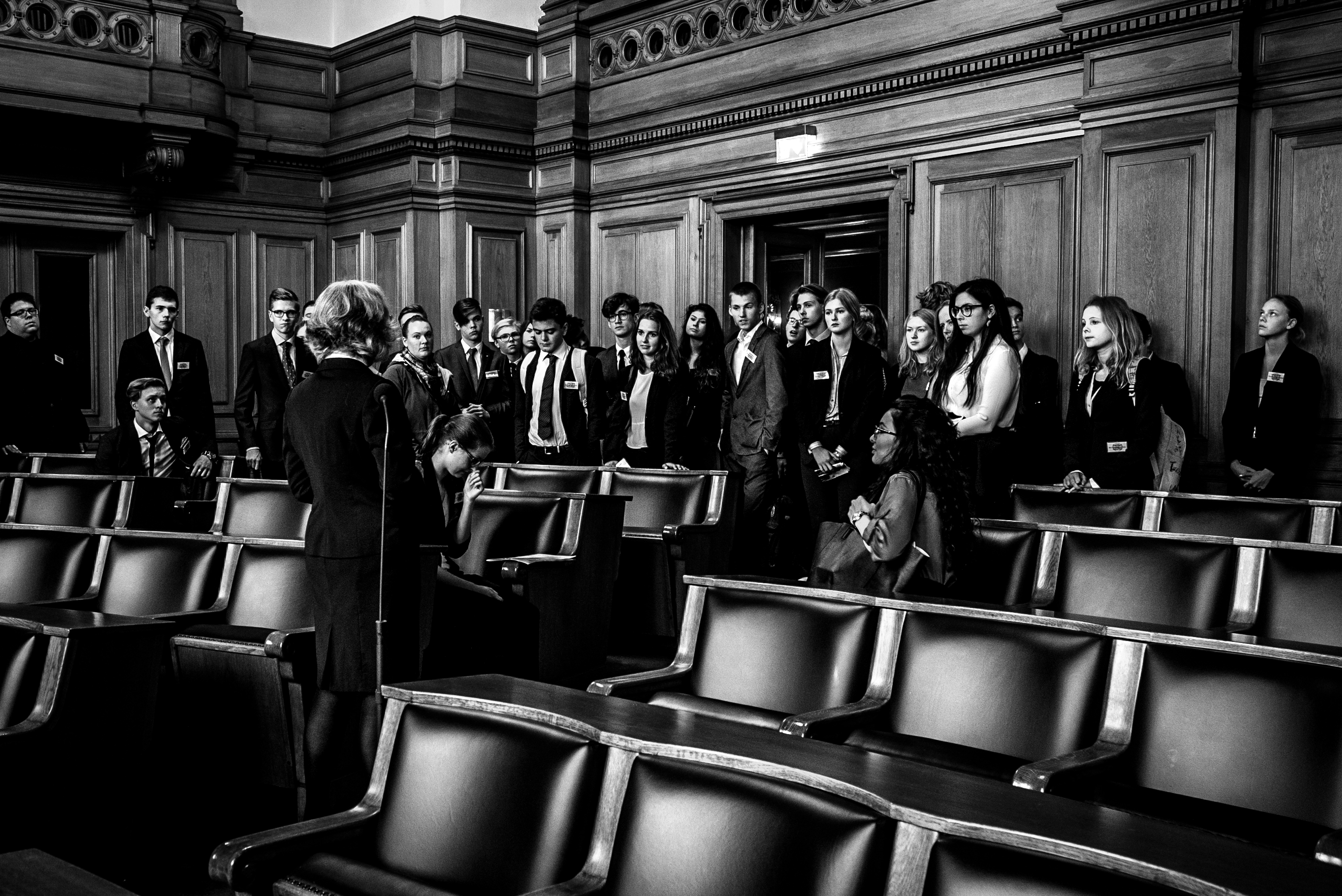 The Opening Ceremony took place in the beautiful Hamburg City Hall. The almost fully wooden construction was built from 1886 to 1897. In the 19th century the ground was very musty so the house had to be build onto 4.000 wooden poles. The style that you can find in all the rooms is historicism and the value of just the outside is round about 60 to 80 million Euros. Due to the fact that over time more and more furniture has been bought and renovations have been made the exact value of the whole building cannot be estimated.
Our tour started in the Citizens' Chamber. The wallpaper is made of felt from 1897 and has been soaked into oil to stay smooth over the years. Heating and electricity had been established at the very beginning, that is the reason why the fireplaces have never been used. Next, we went back into the Plenary Chamber where our guide told us a little bit about German politics. She explained that Hamburg is a city and also a state and therefore, our mayor, Olaf Scholz, is also Hamburg's Prime Minister.
The Hamburg Parliament has got 121 members that all work as part-time politicians. At the moment a coalition of the Green Party and the Social Democratic Party (SPD) is governing  our city. Carola Veit is the President of the Hamburg Parliament and the one who has made it possible for us to hold the Opening Ceremony in the City Hall.
Furthermore, the guide explained to us that the wallpaper was painted over by the Nazis at some point in history and that repainting it was considered but the decision was made against it because it was too expensive. The solution they found was to recreate the pattern of the old wallpaper in one little corner on the right hand side in the Plenary Chamber.
In the lobby, where the staff served drinks and snacks before and during the conference, one big painting caught my eye. It showed the building of the Patriotic Society. This painting is supposed to remind us all of the Great Fire of 1842, when more than one fourth of the city of Hamburg burned to ashes. In the center of the lobby there is a wooden table that was made from an oak tree that had been planted on the market square in front of the City Hall a hundred years ago. The tour of the City Hall ended in the splendid Banquet Chamber that is used for many different occasions, for example to celebrate the election of a new mayor of Hamburg.
So, the tour ended here, but the first day of AMUN 2017 has only started.
There is a word in German that cannot be translated into English: Vorfreude. It means the excitement before an event that you are happy to be part of.
We sincerely hope that you feel this way about returning to school tomorrow.