The Opening Ceremony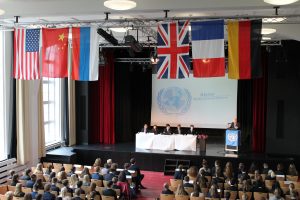 October 21, 2018
"Make love, not war", declared the PGA as the first speaker of the Alster Model United Nations 2018. Approximately 170 students from 13 schools and 3 countries (Denmark, Spain and Germany) were listening to him (ok, minus the delegate of the Security Council representing the Ukraine who fell asleep during the Opening Ceremony and minus the school that unfortunately couldn´t make it on time). All of them were united here, in the Klosterschule, to debate possible solutions which may create the foundation of world peace and happiness and of course to make new friends and improve their English too. The delegates had the pleasure of listening to some interesting guest speakers! The Principal of the Klosterschule, Mrs. Brandt-Dammann, who praised Alster Model United Nations as a way to overcome cultural barriers. Carola Veit, the President of the Hamburg Parliament, pointed out how important it is that young people not only care about their own lives and their hometowns, but that they widen their horizon and are willing to tackle global issues.  Furthermore, we listened to Ando Jacobi, the PGA of the very first AMUN conference, and to a representative of the International Tribunal for the Law of the Sea, who affirmed that MUNs expand the participants´ knowledge of global issues and help to gain a different perspective on global problems.
The two Conference Managers, Pauline Schmincke and Laura Gerloff  (Yes, two!! Down with hierarchy!!), pointed out that you will make mistakes, but it is alright because everybody make mistakes and you will learn from it.
While the two Secretaries General, Benedict Schulz and Pablo Rosat (Yesss two!! Seems like the revolution is coming, right?!), mentioned the importance of the Declaration of Human Rights, which celebrates its 70th anniversary this year and our duty to protect it. They proved their point by suggesting to enslave everyone who enjoys pineapple on pizza. This shows how arbitrary injustice is and what would happen if the Human Rights did not exist. What a wonder..ehh I mean horrible wooorld!
However, the Opening Ceremony ended with the PGA officially opening the conference and giving the Secretary General, Pablo a besito on his cheek, clearly following his own quote : "Make love, not war".
By the way, do not forget to congratulate Rasmus Stengaard Hansen from Denmark, the delegate of Norway in the 2nd committee. He turned 16 today and says, he could not think of a better way of celebrating his birthday Happy birthday from the whole press team!
Un besito
your AMUN press team